When I think Los Angeles, the first thing that comes to my mind is the picture of crazy, crowded and loud city. In some people's opinions LA is nothing special, there's no history or ancient architecture. This is not like Europe, that's true, but I believe the City of Angels has more to offer for people who visit Southern California. There is so many beautiful and romantic dating spots whether you want to spend a nice day with your partner or trying to woo your new crush. Below you can find a list of my top places to spend some quality time. From stunning rooftops views to breathtaking panoramas – here is my top 10 date ideas in LA.
10. Santa Monica Pier
Address: 200 Santa Monica Pier, Santa Monica, CA 90401, US
Santa Monica Pier is number 10 on my list because this famous place usually is crowded and full of tourists. However, the pier is perfect for walking with your partner hand-to-hand, eating dinner in one of many restaurants located at the pier or have fun in the amusement park. If you are a connoisseur of seafood, especially shrimps, definitely you should check The Bubba Gump Shrimp Co. – maybe you know it from Forrest Gump movie. The restaurant serves classic American dishes, delicious shrimps and beautiful views of the Bay of Los Angeles.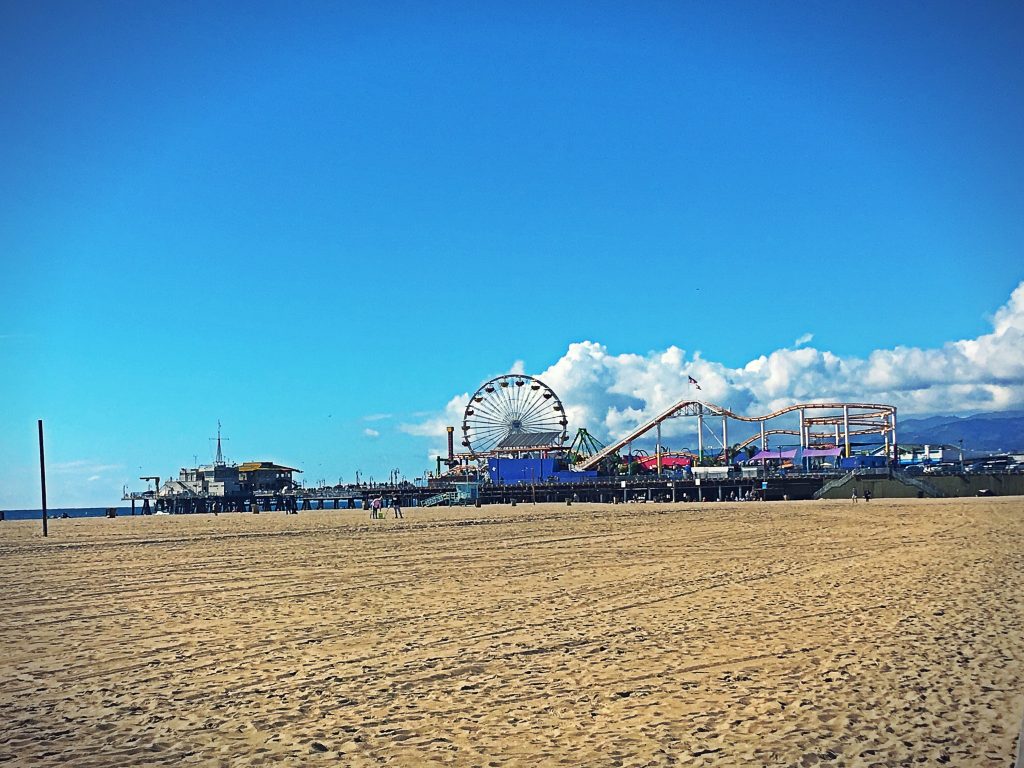 9. Griffith Observatory
Address: 2800 E Observatory Rd, Los Angeles, CA 90027, US
It's an southern California's gateway to the cosmos! The Griffith Observatory is a special place for me. I've been living close to it when I first time moved to LA. It brings spectacular views at the City of Angels but also at the Hollywood Sign. There's a lot of jogging paths around the observatory where you can run or walk with your love one, and also the good idea is to have a picnic on the grass in front of the main building. Every year it is possible to watch an amazing fireworks show on July of 4th "Independence Day", only be prepared that other people could have the same idea. This is popular touristic spot. If you like "LaLaLand" movie you can recognize that place from famous scenes that were taken inside the building.
8. Hollywood Sign
Address: Los Angeles, CA 90068, US
The Hollywood Sign is must-see when you come to LA. Everybody wants to see it and it is hard to not to notice it when you are in the Hollywood area. There's many places where you can admire the sign and also many paths lead to spots where you can observe the sign close up. What I want to recommend is hiking behind the Hollywood Sign and from there you can enjoy not only a DOOWYLLOH sign but also a beautiful panorama of the city.
Bad news is that sign is not lighted at night. Yes, I'm sorry but I also was very disappointed when I came first time. They do this only for films. One more tip: when you wanna get to the Hollywood Sign you can ignore signs that say "There's no Hollywood Sign access", it's because tourists are annoying for residents.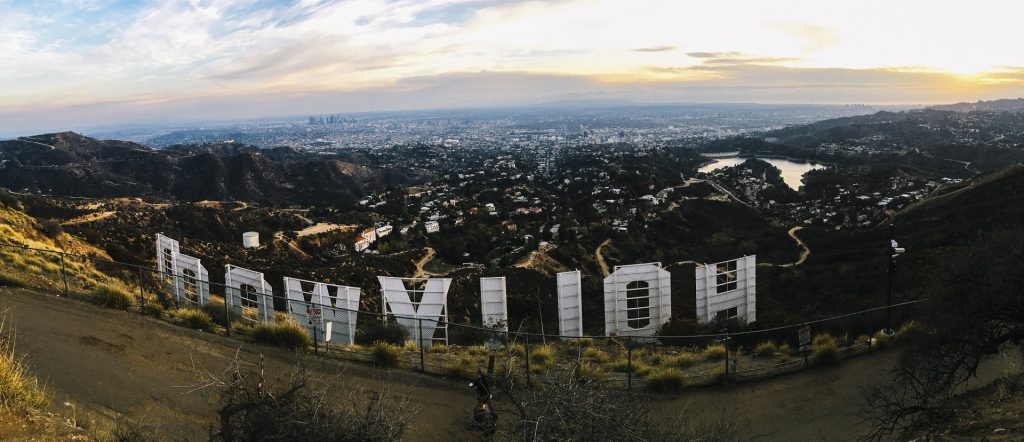 7. LACMA Museum
Address: 5905 Wilshire Blvd, Los Angeles, CA 90036, US
The Los Angeles County Museum of Art (LACMA) is the largest art museum in the Western United States. You will find there a world-class collection of art from ancient to modern, from Europe to Asia. If you like art, it's a "must see" for you. My favorite but also the most famous area of the LACMA is the Urban Light. You can take some nice picture there and it's very romantic place, especially in the evening and at night. This one and some of other attractions, like outdoor Jazz festival in the courtyard, are for free. When I was in LA it was possible to visit a museum for free on second Tuesday of each month. HERE (https://www.lacma.org/tickets) you can find more information about the tickets.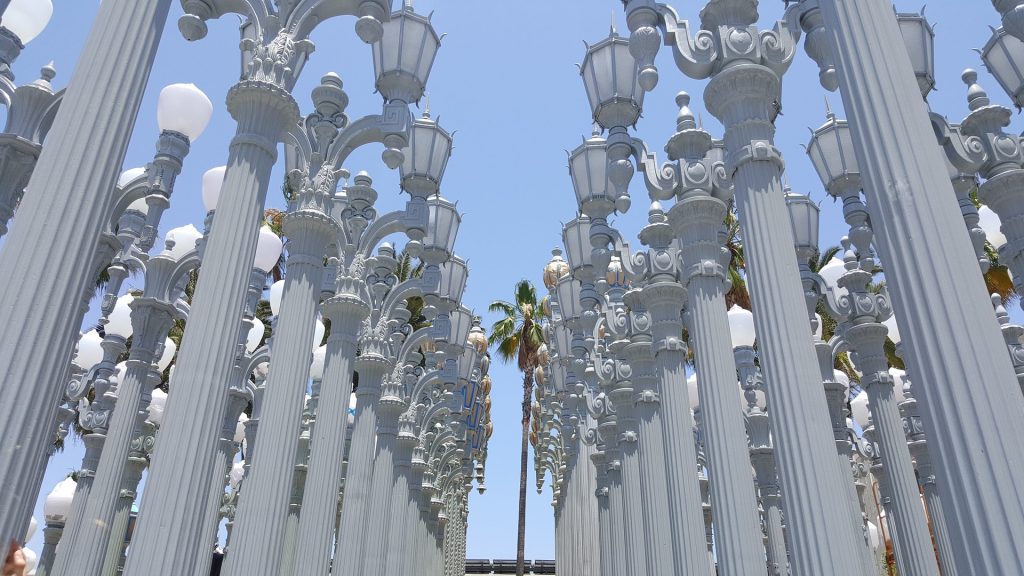 6. Manhattan Beach
Address: 2 Manhattan Beach Blvd, Manhattan Beach, CA 90266, US
Picturesque Manhattan Beach is an ideal place for spending a sunny day by the ocean. The place is less crowded than Santa Monica and you can also enjoy the view from lovely pier. There's a small Roundhouse Aquarium for free at the end of the pier. If you like spending your time actively is the perfect place to try surfing as well! Then when you get hungry after the long day at the beach you can try some delicious food in one of many bars and restaurants nearby. My favorite place is the Kettle Restaurant (1138 Highland Ave, Manhattan Beach) where you can find also vegan options.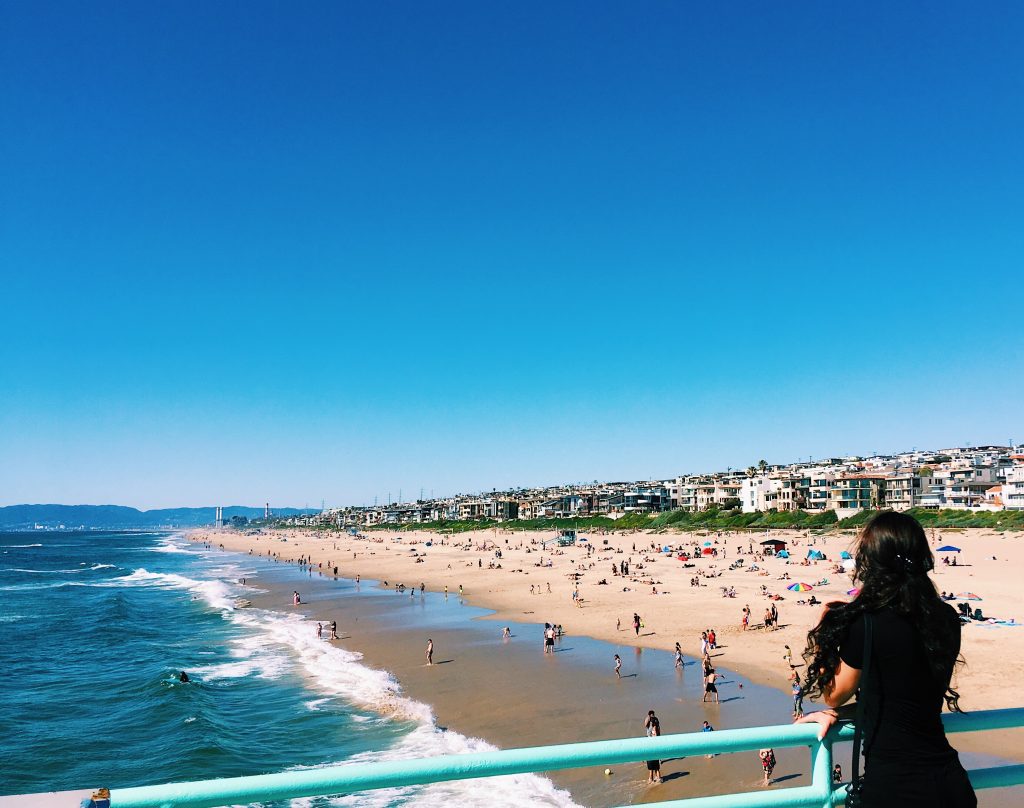 5. The Lighthouse Cafe
Address: 30 Pier Ave, Hermosa Beach, CA 90254, US
Did you watch the famous "La La Land" musical film? Do you want to discover some well-known places from the movie? One of them is the Lighthouse Cafe, a jazz bar located in Hermosa Beach. This is the place in which Sebastian brings Mia to show her the importance of jazz. If you wanna feel like them, definitely you should go there. I had a lunch with my friend there and must to admit the food is amazing! Furthermore, you can enjoy the jazz music and feel this special climate because of the photos from La La Land on the walls. Inside everything looks exactly like in the movie. Go there and check it!
4. The Getty Center
Address: 1200 Getty Center Dr, Los Angeles, CA 90049, US
Finally we're closer to my top spots on the map of Los Angeles and one of them is a magnificent Getty Center (J. Paul Getty Museum). First time I got there with my UCLA class. Our task was to conduct some school projects there e.g. interview with an employee and describe some of arts. My favorite part of the Getty Center are charming gardens and terrace from you can see a beautiful panorama of the City of Angels. The museum is for free and I think everybody who comes to LA should visit that place. It is one of that place where you should take your partner if you want to make a surprise (the sunset is brilliant there)!
3. Malibu Beach
Address: El Matador Beach 32350 Pacific Coast Hwy, Malibu, CA 90265, US
El Matador Beach is my favorite beach because is not so crowded and the views from there are amazing. Some paths descend through unique eroding formations on the face of the bluff. Wooden stairs take you the rest of the way to the beach. Gorgeous sea stacks are on the beach and in the surf. El Matador is a popular place for photographers to shoot models and stunning sunsets. It is close to Malibu that you can visit as well.
2. Rooftops
I don't have any special place in my mind but Los Angeles is full of amazing rooftops like bars, fancy restaurants, night clubs or private apartments. Wait! There are two rooftops I like the most! One is the Skybar in the Mondrian Los Angeles Hotel and the second place is a private rooftop on the top of the building where I lived. Both have swimming pools and provide spectacular vistas! Grab a glass of vine and enjoy the views!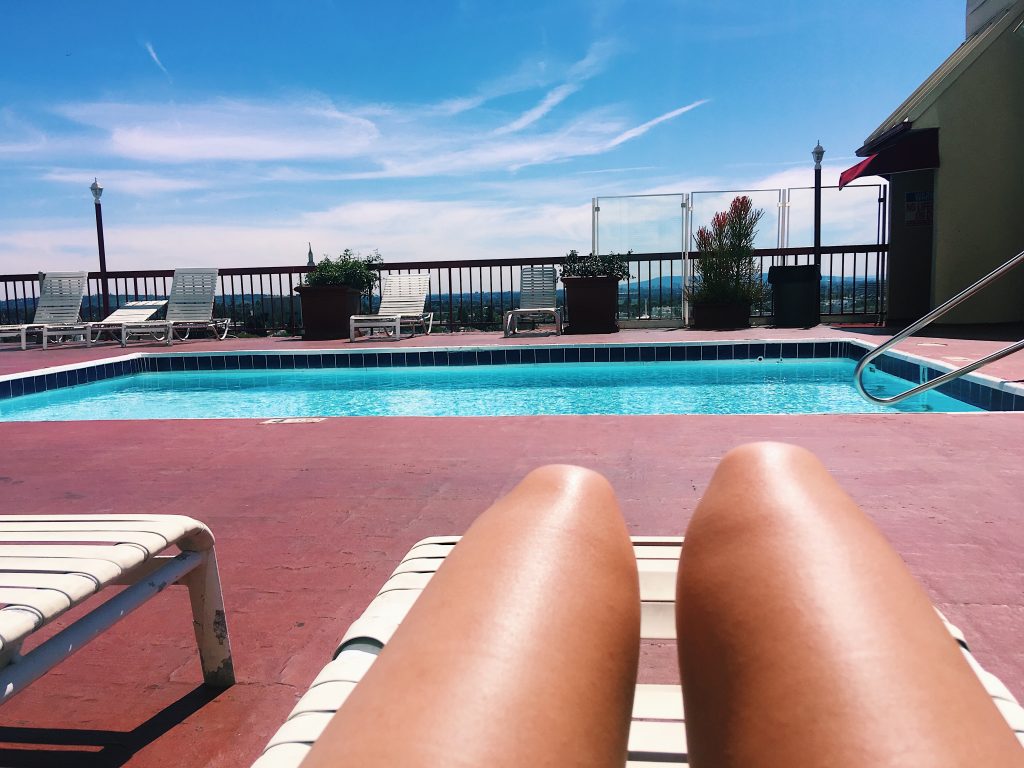 1. Runyon Canyon
Address: 2000 N Fuller Ave, Los Angeles, CA 90046, US
"You don't know where you're going to go, but follow every turn and L.A. will lead you." Runyon Canyon is my number one in Los Angeles. It was a love from the first sight! Every time I get back to LA this is a first place I visit. There's a bench that always waits for me. That place makes me speechless… I don't want to spoil it, so just go there!