WEEK 1. SET YOUR GOALS & WAKE UP STRONG MOTIVATION
There are so many varying opinions on the keys to success and leading a meaningful, happy, and fulfilling life. Working hard, having disciplined, and sacrificing are just a few examples.
However, I believe that one of the integral factors necessary to be successful at anything is planning. First week, I would like to focus on goal setting and creating a smart plan. The key to success is planing. It's almost impossible to achieve a big success without a plan. Every day we make choices. It's important to know where you are going and what do you wanna achieve in your life. Many of people don't know what they want. This is the biggest problem. Because when you can dream it, you can do it! But you have to know what do you want! That's why goal setting is crucial.
The mental side of sport is now seen as being just as important as the physical side. Research has illustrated that goal setting is one of the most effective and powerful techniques when it comes to providing athletes with a psychological edge. Not only in sport but also in other areas of life this skill is helpful. Everyone who want to achieve the success should set goals and create a good plan. Essentially goal setting is a mental training technique that can be used to increase an individual's commitment towards achieving a personal goal and this can be separated into short, medium and long term goals.
"Goal setting helps to focus attention and it is critical to maintain and enhance motivation. Goal setting gives direction both in the short term and the long term and you can see success as you achieve your short term goals." David Harrison
First, you should think what do you want to achieve in one year or even in five years. Long term goals are like a fuel for your mind. If you have a great vision, you wanna jump out of bed in every morning. When you create main goals then you can think about short term goals. Use short term goals as stepping stones toward long term goals.
TASK: Set three main long term goals. What is your dream? Where do you want to be in 5 years? What do you want to achieve? For example:
"Learn how to shoot a soccer ball with my left leg."
"Improve my offensive skills"
"Play in the Champions League." (Why not?! Dream big!)
S.M.A.R.T. method is be helpful to goal setting. Applying this method will enable you to break down unachievable dreams into actionable objectives and progress in your career as well as personal life.
Your goal should be:
Specific – write out clear, concise goals
Measurable – the ability to track your progress
Attainable – set challenging, yet achievable goals
Realistic – set goals that are relevant to your overall life plan
Time based – goal has a target finish time attached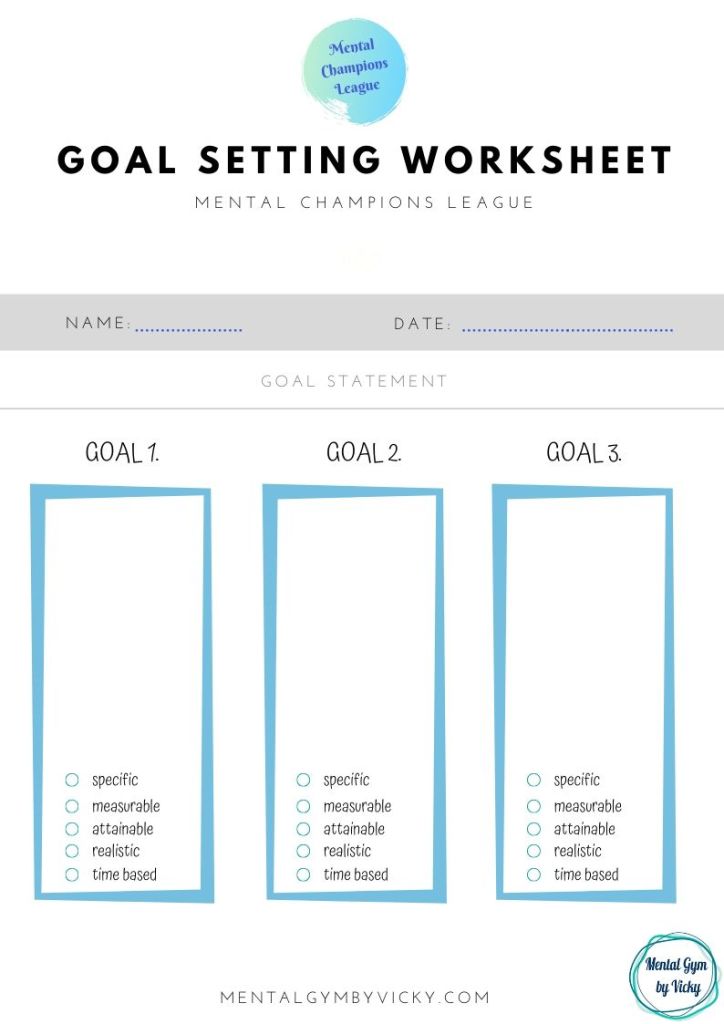 BE MORE MOTIVATED AND IMPROVE YOUR PRODUCTIVITY WITH THE "2-MINUTES RULE"
The Two-Minute Rule states "When you start a new habit, it should take less than two minutes to do." The idea is to make your habits as easy as possible to start.
This is a powerful strategy because once you've started doing the right thing, it is much easier to continue doing it. A new habit should not feel like a challenge. The actions that follow can be challenging, but the first two minutes should be easy.
Do you know that feeling when you set a new goal? The first few days everything goes well, you feel motivated and excited about it. But as more days pass, it doesn't excite you anymore. Why is it so hard to follow up on our new habit? Well, one of the reasons is that the habit we're trying to form can seem a little overwhelming, so we have this mental resistance. In the beginning when we're super motivated it's much easier to do something.
Well, try to use the "2-minutes" method to follow your goals. When your goal is to read the whole book, meditate for 1 hour or run 10 miles, your habit can be quite hard to start. Most of the tasks that you procrastinate on aren't actually difficult to do. You just avoid starting them because you make them seem so. The idea of the 2 minutes rule is to trick your brain into thinking that the habit you're about to do isn't hard. So what you want to do is break that big habit down into a small 2-minute version of it. Your goals obviously can't be completes in 2 minutes, but every habit can be started in that time. And once you start doing something, it's much easier to continue with it.
BĄDŹ BARDZIEJ ZMOTYWOWANY I POPRAW SWOJĄ PRODUKTYWNOŚĆ Z METODĄ 2-ÓCH MINUT
Zasada "2-óch minut" mówi o tym, że "kiedy zaczynasz tworzyć nowy nawyk to aktywność, którą podejmujesz powinna trwać do dwóch minut." Ideą tego założenia jest to, aby czynność wydawała się jak najprostsza do rozpoczęcia.
Jest to potężna strategia, ponieważ kiedy już się podejmiesz konkretnych działań to będzie Ci prościej utrzymać to zaangażowanie. Nowy nawyk nie powinien być wyzwaniem. Chodzi o to, aby samo działanie, które za tym idzie było wyzwaniem, jednak pierwsze dwie minuty powinny być proste.
Znasz to uczucie kiedy stawiasz sobie nowe cele? Przez pierwsze kilka dni wszystko idzie super, jesteś podekscytowany i zmotywowany. Jednak z upływem dni entuzjazm do działania coraz bardziej maleje. Dlaczego jest tak trudno jest realizować postawione cele? Jednym z powodów może być to, że stanie się on dla nas przytłaczający i nasza odporność psychiczna może okazać się zbyt słaba. Początkowo gdy jesteśmy super zmotywowani jest nam po prostu łatwiej działać.
Spróbuj zastosować metodę "2-óch minut" aby skutecznie realizować swoje cele. Kiedy Twoim celem jest przeczytanie całej książki, medytowanie przez godzinę czy przebiegnięcie 10 mil to początkowo może się to wydawać trudne do rozpoczęcia. Jednak większość czynności, z którymi zwlekasz, nie jest tak trudno zrealizować. Po prostu jest Ci trudno, ponieważ sam je takimi czynisz w swoim umyśle. Ideą reguły 2-óch minut jest oszukanie Twojego mózgu, aby myślał, że to co ma zrobić jest bardzo proste. Twoim celem jest rozbicie celu głównego na mniejsze cele, które możesz zacząć realizować od razu. Oczywiście, że nie osiągniesz swojego celu w 2 minuty, ale ten czas pozwoli Ci na wytworzenie dobrego nawyku działania. Kiedy już zaczniesz działać to będzie Ci o wiele prościej utrzymać ten nawyk.